Please read all information below.
Your account will be disabled after your exit interview and no longer accessible. Once your account is disabled it will not be reopened to retrieve files that were left behind and any shared documents may no longer be accessible to those users. All Drive files will be permanently deleted after 24 months so

please be courteous to your team and take care of all files shared with other users

.
____________________________________________________
Below are some procedures you'll want to follow well ahead of your last day with GCISD. These procedures can take days or weeks depending on the volume of data. Please allow ample time.
_____________________________________________________
Shared/Collaborative Content
There are two ways to handle files that you have shared with others or that you have created for the district: the best option is to copy the files to a Google Shared Drive or transfer ownership of the file to another GCISD user.
Google Shared Drive
Any staff can create a Google Shared Drive, add members, then copy files to that drive. This is a great way to share your files with your supervisor (for example) or other staff members and especially store files that will be needed by anyone else doing your job after you. The files in a Shared Drive are owned by the drive itself and not an individual user so they're not at risk when a user leaves the District.
Only collaborative and shared files should be moved to a Shared Drive. The Shared Drive function is not to be used as additional storage for personal content, "memorabilia" such as images/videos of years past, or files that are not shared or not currently being used for instruction. Those items should be archived to a personal cloud storage or device.
Below is a link for how to create a Shared Drive. Don't be intimidated by the amount of information... it's as easy as creating a folder and sharing it with another user but just looks a little different in that process.
Creating and Using a Shared Google Drive


NOTE: At this time users are only able to transfer files to a Shared Drive, not folders. If you have a large number of files and folders to move, please use the following (temporary) workaround:
Moving Files and Folders to a Shared Drive
Transfer Ownership to Another GCISD User
Transferring ownership of a file is as simple as opening the share settings like you did when you originally shared the file then changing one of the editors to be the owner. Once you do this, you will still have access as an editor until your account is disabled.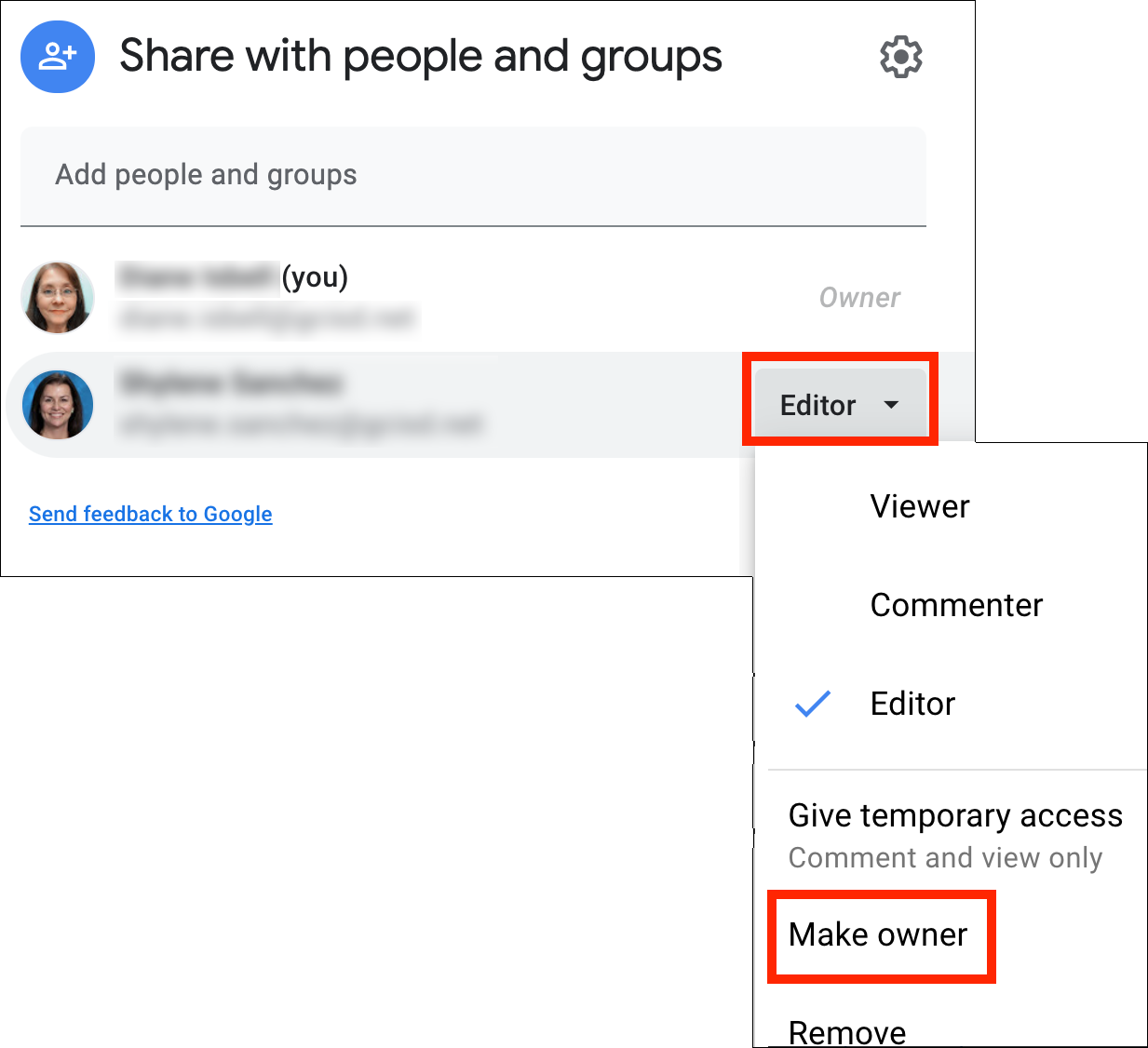 NOTE: Transferring ownership has to be done PER FILE. If you change ownership of a shared folder it does not change the ownership of the enclosed files.
Google Site
If you are the owner of a Google site that will continue to be used by your team, you must transfer the ownership of that site and the associated files prior to leaving or the site will have to be rebuilt. To transfer ownership, click on the settings and change one of the editors to be the owner. If you don't have another editor, simply add someone as an editor and save. You should then be able to go back in to settings again and change that editor to an owner. If you have a problem with changing ownership of a Google site, please submit a help ticket.
Options For Personal Content
IMPORTANT: Content created by anyone other than yourself

or files containing student information are the property of GCISD and are not to be downloaded or transferred in any way to a personal account.
Do not share your files with your personal Google account as a method of transferring them. You will not be able to make your personal account the owner of the files and you will lose access to them once your account is disabled.
Option 1 - Google Takeout
You can export a copy of content in your Google Account to use with a service outside of GCISD using Google Takeout. Instructions for this can be found here.
Option 2 - Download files to a Personal Computer
Drive Files:
1. Select only the files and folders you really want to keep and move them all into a single folder.
2. Log in to your GCISD account on your own personal computer and download that folder. Google will zip it all together before downloading.
3. Either store the files on your personal computer or unzip the file and re-upload to your personal Google Drive, Dropbox, or other cloud storage. Note: you'll want to be sure you have enough available storage space in your cloud storage before uploading or purchased more space.
Alternatively, if you don't have a personal computer you can follow the steps above to download the files to your district computer then copy them to an external flash drive. This can take quite a long time depending on the volume of data. Please allow ample time for file transfers.
Contacts:
Contacts can be exported from the menu option in the sidebar then re-imported into your personal Google or Apple Contacts.
Gmail:
Forward any mails you want to keep to your personal account or "print" them to PDF and download the PDF file to your personal computer. To save to PDF, click the printer icon at the top right of the email.

In the next window, be sure it says Save as PDF then click Save. You'll be given the opportunity to name the file and select a location to save it.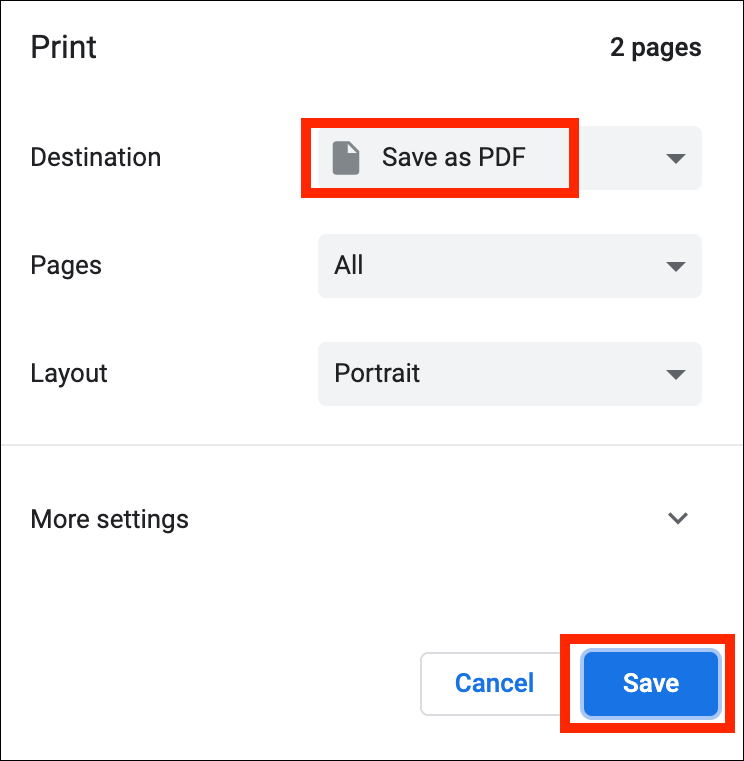 IMPORTANT INFO:
Delete all

personal

files from your Google Drive prior to leaving the district and

empty the trash

.


Depending on your position, we also suggest that 2 weeks before your last day you set an auto-reply on your email indicating you will no longer be with the GCISD after a particular date and include information on who to contact after that time.



After 12 months the contents of your Google Drive is permanently deleted

.
Third-Party Options
VaultMe is a third-party service that will transfer your selection of Google content to another Google (personal) account for you without having to download and re-upload. This is a paid service with excellent reviews. Please note: Using VaultMe or any other third-party service is at the user's expense. GCISD doesn't not promote or support services like VaultMe but are simply providing the information as an option. Also, VaultMe does not migrate YouTube videos that you've created.
Downloading Your Eduphoria Workshop Records
https://gcisdhelp.zendesk.com/hc/en-us/articles/360023793314-Professional-Development-Transcript
If you have questions about this please submit a help ticket and we'll do our best to assist you. We wish you the best in your next adventure!