What is ClassLink "My Files"? My Files is your place to access, edit, and store all your files and folders located in your Google Drive or on your school network from any device. View, edit, and save your files, from any device, including mobile, instantly!
💡 You can preview your PDF files and images stored in your "My Files". Click the PDF or image you wish to view, and the preview window appears automatically!
Click the folder icon in your Favorites bar to launch the "My Files" app.
My Files Drive Options
School Network drives (e.g., H Drive, Local Drive), provide access to any of your local network drive files and folders.
Google Drive is available for you to connect to within "My Files". To connect Google Drive from Manage Services, click Connect, enter your username and password one time, and you're good to go for every login after the first!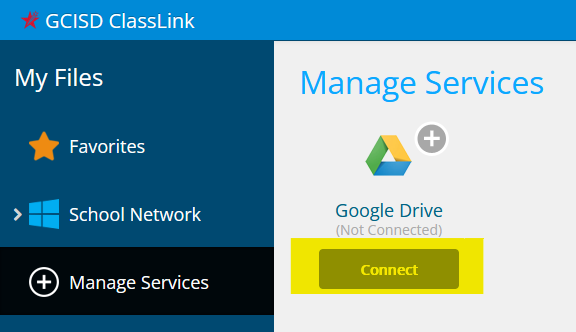 Files Access
All files and folders existing in any of the connected drives are automatically made available to you within My Files. From any of your available drives, you can create a new file or folder or upload one from your desktop or saved location.
✔️ NOTE: In any drive, uploading a folder or file by clicking the Upload button makes it available live from wherever the drive is connected. Want to know something else exciting? Because of a partnership with Microsoft, Microsoft Online is available for you to create Word, Excel, and PowerPoint Online files!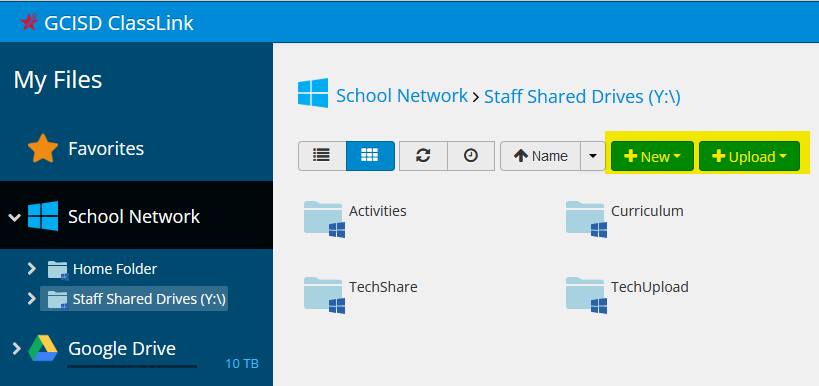 When you open a document from the Google Drive connection, the doc opens directly in Google Drive. But when you open a Microsoft Office document from the other drives, the doc opens in Microsoft Office Online
Right-Click Options
Right-clicking a file or document gives you a menu of options.
✔️ NOTE: The available options differ depending on the drive and the file or document.
In any of the available drives, right-click a file to display a menu of options.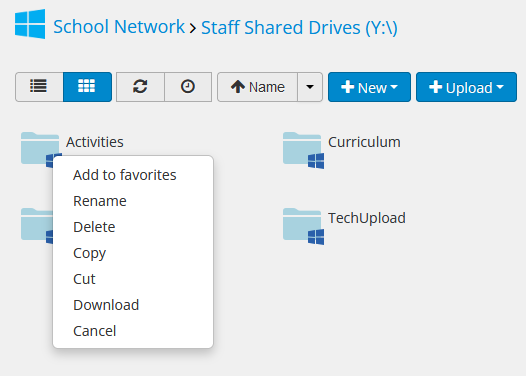 💡 Want to keep track of your most-accessed files across all networks and drives? Select Add to favorites from the menu to copy a file over to the ⭐ Favorites list.