Updated 07/31/23
Need help with a LiveLesson issue? You're in the right place. Try one of the following videos or job aids before calling the Support Desk.
Download Application:
For Dell computers: AT HOME
For Dell computers: ON CAMPUS
For Mac Computers: AT HOME OR CAMPUS
Set up your Live Lesson Room:
Troubleshooting Adobe Connect:
Mic cutting in and out
There has been issues with the mic itself using 920 models of Webcams the two workarounds are below:

You can use a headset or computers internal mic instead of using the webcam.
If you can follow the steps below this should fix the issue temporarily

Go to Settings
Click System
Select Sound
Under related settings on the right side, click Microphone privacy settings. Turn OFF "allow app access for your mic" and Turn OFF "microphone access for your device"
Go to Device Manager
Under Audio input and output uninstall the C920 device
Restart computer
Check mic is seen again in Device Manager
After Turn ON "mic access for device" and Turn ON "allow app access for your mic"
Clear Browser Cache
The most common solution to LiveLesson problems.
Check this if you are experiencing:
LiveLesson account and/or password issues
General Information
Clearing the browser's cache resolves most issues. This is always a good first strategy to try.
Chrome
Users have difficulty with LiveLesson running on Chrome browsers, but there are workarounds.
On your computer, open Chrome.
Make sure you only have one tab open and all other programs, including Google Drive and desktop apps, are closed.
From the top right of the browser, select More (three vertical dots).
Select More tools, then Clear browsing data.
Choose the Advanced tab.
Choose the time range of All time.
Ensure only the top four boxes are selected, as shown in the image below.
Select Clear data.
Set Browser Site Settings
Review and reset these if your issue persists.
This section should help if you are experiencing:
microphone and/or audio issues
camera and/or video issues
miscellaneous room and/or recording issues
Sound issues
Make sure accessories were connected prior to meeting
Reboot computer and close all unnecessary apps before starting with Connect.
Other things to check is everything is up to date:

Chrome
Computer
Adobe App

Disable Enhanced Audio/Video option (teachers have seen a way better experience after keeping this setting disabled) Instructions Below

Sign into your Adobe Connect Adobe Connect Login
Click on Meetings
Open your Meeting Room
If the Enhanced Audio/Video feature is Enabled (if so proceed to next steps)
Click on Edit Information
Uncheck next to Enhanced Audio/Video
Click Save
Restart Computer
Computer Troubleshoot
Make sure all updates have been ran on your computer

For Dell

Run the Dell Command Update Application
After make sure you are fully up to date in your Windows Update

Windows>Settings>Update and Security>Check for updates
Windows>Settings>Update and Security>Check Online for Updates from Microsoft Update

For Mac

. Click on the Apple menu in the top-left corner of the screen.
Select "System Preferences."
Click on "Software Update."
Select "more info"
Install the available updates
If you are still needing to update to Ventura select Upgrade now
After installing all update restart.
Do steps again to make sure you are fully up to date.

Make sure Chrome is up to date
General Information
Review and/or reset the browser settings after the browser cache has been cleared. This strategy may be used together with other strategies to solve a variety of issues.
Browsers should be configured to allow the following:
Camera = Allow
Microphone = Allow
Notifications = Allow
JavaScript = Allow
Images = Allow
Pop-ups = Allow
Background sync = Allow
Sound = Allow
Automatic Downloads = Allow
Clipboard = Allow
Chrome Site Settings
Select the lock icon in the address bar.
Select Site Settings.
View and adjust Permissions as needed.
Maintain your LiveLesson Room
Teachers should do routine maintenance to ensure your room is performing its best.
Reduce Room Bandwidth (Teachers)
Reconsider the settings and tools you enable to improve performance.
Set Default Browser
Use a single web browser when working online, including during LiveLesson sessions.
If you receive a message below: ERR_CONNECTION_REFUSED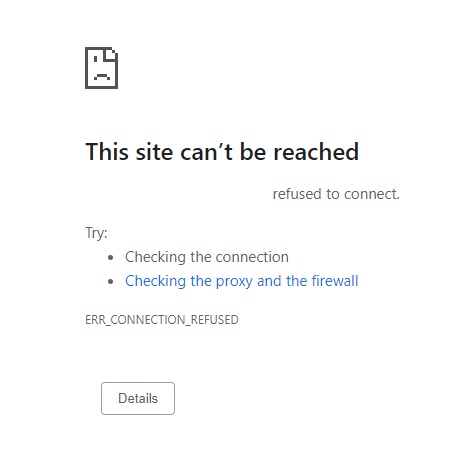 Restart your router and then restart your computer, If this step does not work move on to step 2
Try to connect to the same site off your home network. Use a phone hotspot or even try logging in using your phone but on your cell data plan.

If you are able to get on the site this way. This is a network issue. Some providers have apps where you are able to release blocked sites. If you are needing more assistance please get in contact with your internet provider and they will be able to assist you. Make sure to let them know that you have restarted your router and restarted the computer and that the site works while off your network.
If Problems Persist, Try the Following
Device Connection
For best performance, use a wired connection.

Adobe Connect Application/Plugin
For best performance, hosts and presenters should use the latest version of the Adobe Connect Desktop application.