Using Video with Canvas Studio
See Canvas Guides for step-by-step instructions
This is the best option to record screencasts, webcam videos, or upload videos you already have.

Videos in Canvas Studio can automatically create closed captions.

Video quizzes can be created in Canvas Studio with MC, T/F, and multiple answer questions.

The YouTube option within Canvas Studio will not unblock YouTube videos for students. Please use Safari Montage instead.
Other recording options:
Screencastify, Flipgrid, or Screencast-o-matic will continue to be options teachers can use. Once your video is recorded on one of those platforms, upload it to Canvas Studio for easy student access.
Unblocking YouTube Videos with Safari Montage
Adding YouTube videos to Safari Montage allows you to give students access to videos blocked by the filter.
1. Log in to Safari Montage through Classlink. Click Easy Upload & change Type from File to Link.
2. Paste YouTube Video URL Link and click Title to allow Safari Montage to upload the video.
3. Choose to allow video access for Teachers & Staff only or All Users which includes students.
a. To make the video available to students from multiple campuses, press Advanced-Meta Tagging > Sharing: District
4. Press Save. The video is now available to your campus & can be embedded into a Canvas page or shared with the Permalink.
Embedding Video into Canvas from Safari Montage
Safari Montage Videos: Embed Safari Montage videos into a Canvas Page
Open desired Canvas Page > edit > 3 dots > Apps > Safari Montage.

A new tab will open. Search & choose your video.

Click the Canvas button to embed the video.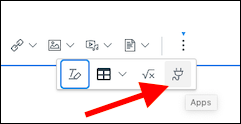 Verified September 1, 2022