ClassLink has introduced a new "Accessibility widget" to make the experience more user friendly for users with specific needs.
To access these settings you will see a new Accessibility Tools tab on the bottom right corner of your dashboard. Simply click on the tab to open the tool, and click again to close it.

If you do not see the tab, you may need to clear your browser cache and log back in. Chrome - Clear browser Cache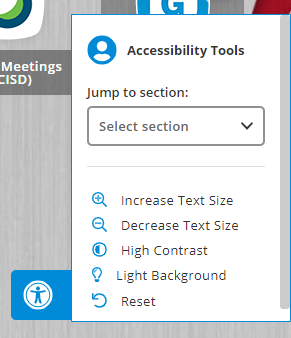 From the Accessibility Tools you will be able to do the following:
Quickly jump to a dashboard section.
Increase or Decrease the Text size.
Switch to High Contrast mode.
Turn off background.
Reset dashboard.
Note, these setting are only for the current session and will reset to default after you log out and back in. You can permanently edit your theme settings from your profile page. ClassLink - Edit Theme Options