IMPORTANT: Please do these steps in order.
Step 1 - Unsync Google Photos app from your mobile device (if applicable)
If you have the Google Photos app on your phone:
Launch the Google Photos app on your phone (not the iPhone Apple Photos)
Tap on your account icon at the top right corner
Tap Google Photos Settings
Be sure Backup is

OFF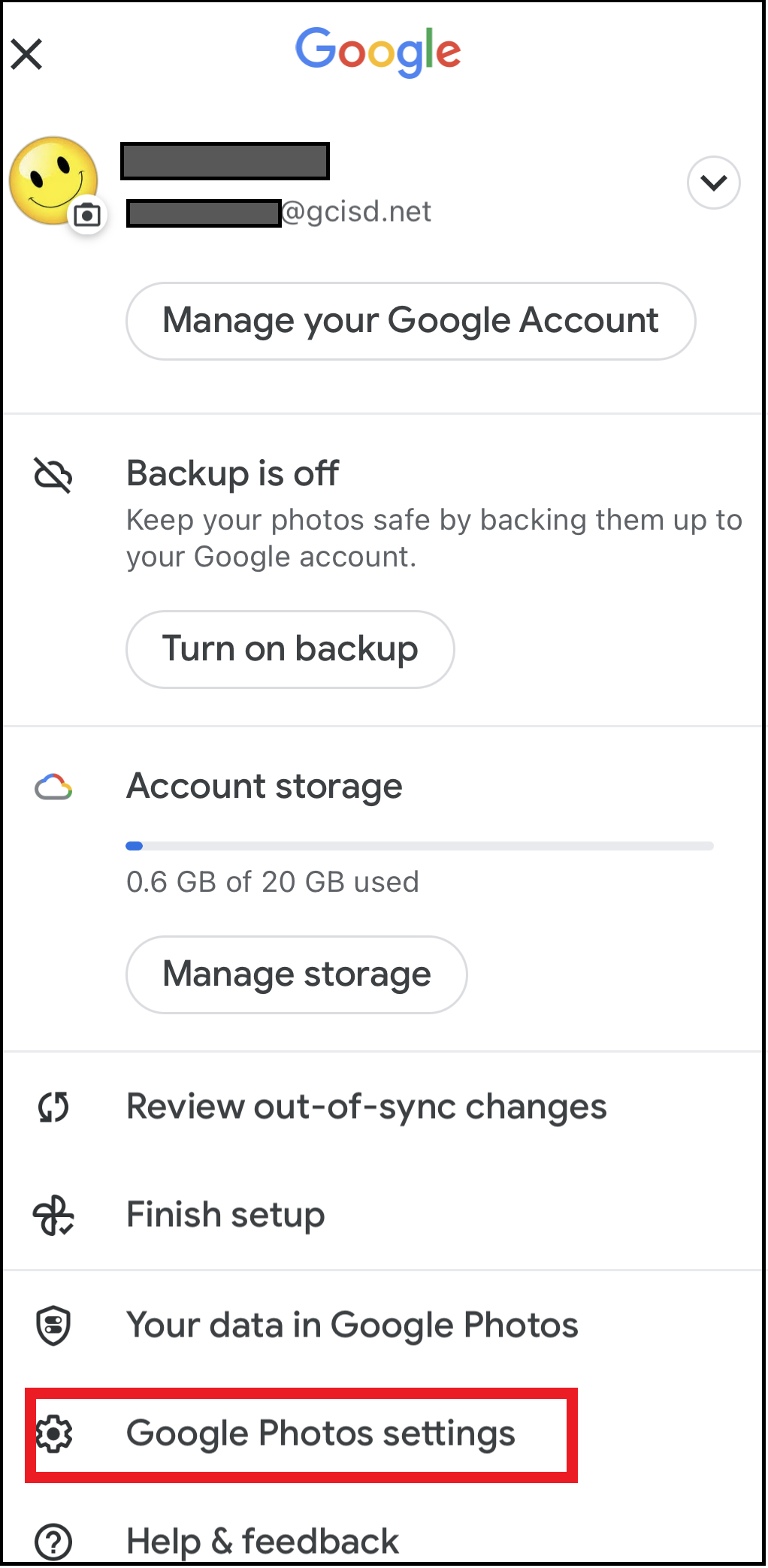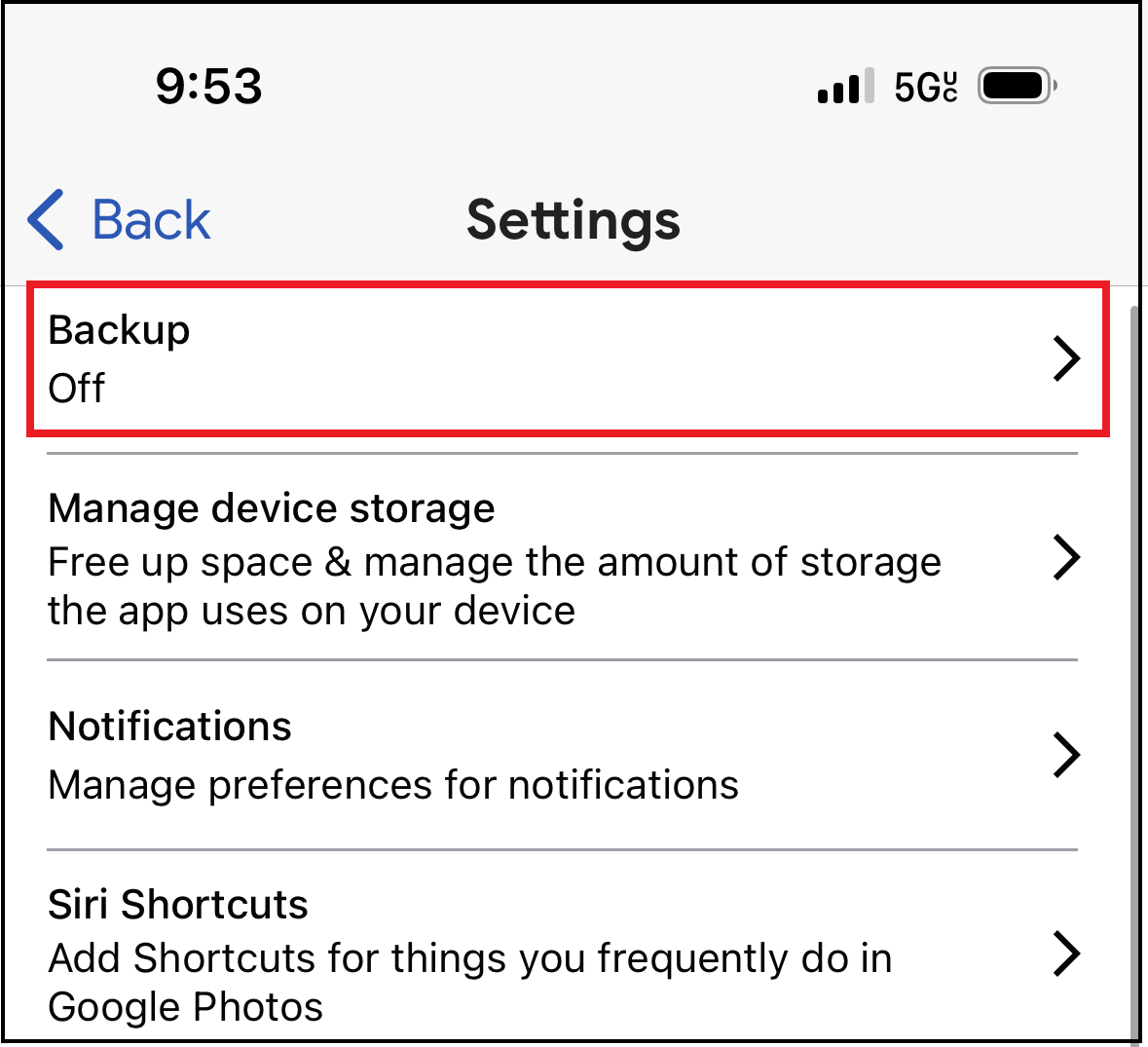 Follow the remaining steps from a computer (NOT a mobile device)

while logged in to your GCISD Google account
Step 2 - Delete unwanted photos
Go to https://photos.google.com and permanently delete any photos or videos that you no longer want or need. This will decrease the number of files you have to download.
Click the white circle with check mark at the top-left corner of the photo.
The circle will turn blue with a white check mark

At the top right, click Delete (trash can.) Click Move to trash.
To select several files:
Click the white circle with check mark at the top-left corner of the first photo.

Scroll down, hold the Shift key and hover with the mouse over another thumbnail. When the thumbnails turn blue you can click. Now all pictures from the first to the last selected picture are selected. Tip: If you scroll too fast and the thumbnails do not turn blue just scroll back and select another one to try again.

At the top right, click Delete (trash can.) Click Move to trash.
Click on the trash can icon in the left side column menu.
Click Empty Trash at the top right.
Step 3 - Export or download the photos you want to keep
Note: Google Takeout exports photos separate from the metadata (file information that contains the date and location) which is not a great option but it's relatively fast. Instructions for that are below. An alternate way to do it is to select the photos (up to 500 at a time) and download them directly to your computer.
Google Takeout:
While still logged into Google, go to takeout.google.com
Click Deselect All to the right of Products at the top of the screen.



Scroll down to Google Photos, select it and leave the All photo albums selected.


Scroll to the very bottom and click Next Step.


Select Export Once then select a delivery method. Click Send download link via email. If you have Dropbox or OneDrive you can send the export there however GCISD Tech Services does not provide support for this method.




Do not select the Add To Drive option.

If there are some photos that you're going to want in your Drive, please select them after downloading and only re-upload the minimum number needed for this school year so you don't exceed your storage limit.


Leave the file type as zip then select a maximum file size for downloading. The files will be split into those size folders. 2Gb or 4Gb is a good average size or 10Gb if you have a very high speed connection.



Click Create Export.


At this point you can go about your business and you will receive an email letting you know when the download(s) are ready. Parents doing this process for their student will need to check their child's email for the download links.


Once the export links are available

you have one week to download

them. If not downloaded during that time you'll need to repeat Step 3 to get a new set of links.
Step 4 - Delete ALL photos from the Photos app
After your photos have been downloaded and you've confirmed you have everything you want, go back to https://photos.google.com and select all the photos then delete them and empty the trash following the instructions in step 2.
If you have questions or need assistance, please submit a help ticket.