Duo FAQs:
Will I be charged to authenticate with my personal phone?
Push authentication with the DUO Mobile app is a notification that uses an extremely small amount of data to function.This is not a text.
I've purchased a new device or want to change devices. What do I do?
You'll need to submit a helpdesk request or call the helpdesk to have your Duo device reset.
I sometimes don't have cell service in my building or when I'm out of town. How can I use DUO to authenticate in that circumstance?
If your registered mobile device does not have a data connection due to location or signal issues, there is also an option to generate a passcode on the device which does not require an internet/data connection. To use this feature, click theUse a Passcodeoptioninsteadof the push option when logging into your account. Then on your mobile device, open the Duo app and tap on the account name to see the passcode that you'll enter on the login page.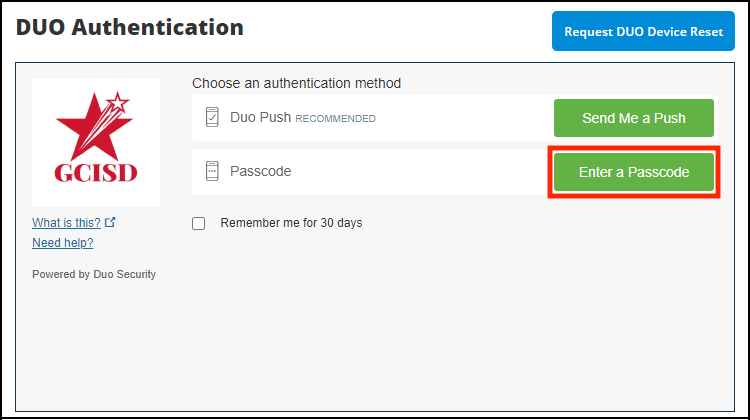 Does DUO see my password?
No. We verify your account password with our internal systems and never send it to DUO. DUO provides only the second factor (the "something you have") to verify it is actually you logging in to the system.
What are DUO's privacy policies?
For information about privacy of the Duo Mobile app, please visit this website:
https://help.duo.com/s/article/4683?language=en_US
Can I opt out of DUO?
No. Multi-factor authentication adds a second layer of security to our online accounts. In an effort to keep GCISD systems and account information secure we are requiring this feature for all staff users.
I am not receiving any push notifications.
More then likely your notifications for the DUO app have been disabled. Go to you system settings and enable notifications for DUO.Note: The following links will open an external webpage.
iPhone - Change notification settings